I haven't really played much this past couple months up until the recent PvP event. Now that I've came back, I've really come to realise something. How much I miss the worms crew.
It was truly, the best times of KaW, hands down. The craziest group of people, they'd do anything they'd go anywhere I said. Anything was allowed and there where no rules nobody gave a ​ what would happen they'd just do it all while kicking ass.
It feels like no clans have that same manor, and that it's pointless trying to find other people. They truly where the greatest bunch of crazy ​ ever.
I miss the crazy CC convo's, where if it where WC we'd be silenced a million times over.
I miss waking up to 60 PMs after a 5 hour nap.
I miss revolutionising EE. Starting new things and whooping the poo out of anyone.
I miss the barcodes.
I miss being the most loved and most hated clan all at the same time.
But most of all I just miss all their personalities. I could write a essay on each one and what they did for the clan, but it would be too long. I've written all the names of worms I could remember, I'm sure there's a few I've missed and if their name was ever brought up id remember them instantly.
It's sad realising less than 10 of us remain, most of those 10 barely playing.
And to think one of our crazy asses, jac (resilience) got mod.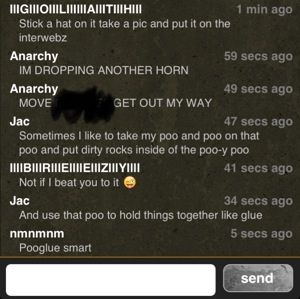 But as they say, time goes on.
~in loving memory
W32.SQLE.VVorm '
Val
Wink
Sol
DKT
Spy
Jac
Kitty
Head
Dingo
Goliath
Glenn
Anarchy
Deano
Roger
Kgma
Slender
Phart
Coff
DJ
Dymez
Swifty
Hulk
Zach
Owen
Elite
Hawk
Spidey
T
Booboo
Martyr
Regretz
Sin
Pinky
Eagle
Versa
Bubba
Bazz
Smoker
Veni
C9
Huber
HammeredSquirrel
BC
King
Nick
Asthma
CDC
Drag
Lion
Zi
Ewok
Dices
May you one day return.