I've noticed a lot of failing clans around lately. I think this needs to be fixed. So, here is a little guide for owning or being an admin in a successful clan.
Table of contents:
Making a clan
Advertising
Activity
Clan chat
Epic battles
Wars
Appointing admins
Good rules
OSFs
'Teachers'
Should you own a clan?
If you have done any of these, you probably shouldn't own a clan at all:
Asked someone to make a clan for you
Bought a clan from someone for free
Not paid the full 25 billion gold for one
Used nobility to buy the clan (not always true, but if 25bil is a lot to you, then this is probably what you did).
Making a clan
You must also, obviously, have a clan. To get one, go to your Clan tab (make sure you are not in a clan first) and then name and create one for 100 nobility or 25 billion gold
(25,000,000,000)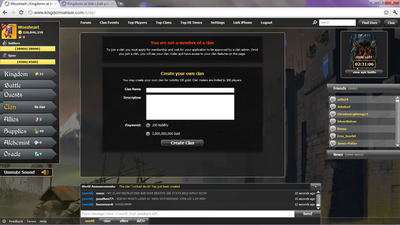 Advertising
Ads annoy people. It's a fact. But usually, if you post just 1 or 2 ads in World Chat, it is fine.
Tips on advertising:
Don't spam player's walls. It's just plain annoying.
Don't spam World Chat! Any more than 2 identical/similar posts within 5 minutes is considered spamming and may get you silenced, as well as hugely annoy other players.
Make your ad nice and colourful. Emoji is the best way to do this. Download it from the app store for free (iDevice only)
You could also make an advertising thread in the forums. But before you do, read this thread:
viewtopic.php?f=7&t=82957
Activity checks
Activity checks are IMPORTANT. There's no use having a big clan if all of your members are inactive. A check a week is a good goal.
Beware, if you do activity checks, you must remember to actually kick the inactive members! Don't send out the check and then forget!
It is good to give members at least 2 days to respond to your wall before you kick them.
Clan Chat
An active chat is vital to a successful clan. Your clan should be as active in clan chat as possible, to attract more members. Your clan chat
should
already be quite active. If it is, good job; keep it like that. If it isn't active, encourage your clan to be chattier! Some clans like to ask members to be active in clan chat in the description, or make it a rule that they must talk there.
Epic battles
A clan without epic battles or wars, is a useless clan. No one wants to join. I recommend doing an EB at LEAST twice a day, and that is still not many.
EB tips:
Don't bite off more than you can chew.
What I mean by this is, don't do an EB that is clearly harder than you can cope with. For small clans, The Awakening or Warbeasts are good ones to start with.
Wars
A lot of players get bored, and will not join, a clan that does not war.
You do not have to war; it just depends on what kind of clan you want.
Tip:
Don't fight a clan that you obviously won't beat. Players like a challenge, but not a hopeless matter of buying pots and defending best they can.
Admins
A good clan needs a team of admins. These admins need to be co-operative, active and helpful. Stats don't matter, but usually stronger players are the more active ones.
Good rules
If you don't have a set of fair rules, your clan will likely fall apart. These rules are best off in the clan description. Here are a few common rules:
No farming (popular, but not required. It depends what type of clan you want.)
No kicking members (admins only)
No swearing in clan chat
No declaring/accepting wars (admins only)
Players open for attacks/steals
It is very common to have a player open for attacks or steals (I recommend attacks; more people will use it.) because it is a good way for new and old players to get easy money.
Note: I do not mean completely abuse the KaW system and get lots and lots of money for absolutely no effort. I mean a backup player that members can hit when they are desperate for a little money.
Stronger players
Although recruiting newbies is nice and you can help them, a good clan must always have at least 2 strong, active members, to help in epic battles etc. Usually these people would become an admin, if they are loyal.
Growing members
Like I said earlier, you need a few strong members. They will be able to teach the small/new members some things. Eg. Give them build advice.
Don't give admin/owner to people you don't know you can trust.
Hundreds of people make this mistake. They give their clan for a 'short' period of time to another member, and they never get it back. The same happens with giving them admin - They can delete all of your clan info and kick all your members. Don't give your clan away to people you don't KNOW you can trust.
I hope you benefit from my guide.

If you find that I have missed anything out, just post below and I'll add it in. Thanks.
Thank you to:

-MissBehave- for giving me the idea of writing a 'Teachers' section
TheCrimson1stKnight for the idea of writing the 'Should you Own a Clan' section
Missmelon for pointing out my typo on the amount of posts that is considered spamming
Sholron for reminding me to put in a tip about forum advertising
Missmelon again for giving me the idea of the 'Active Clan Chat' section