This is a short guide to limited time eb: Revenge of the Warbeasts:
FIRST:
Use item
Horn of Calydor
on Calydor's Corpse to 0.
Phase 1/2 Completion: Prepare your forces for battle.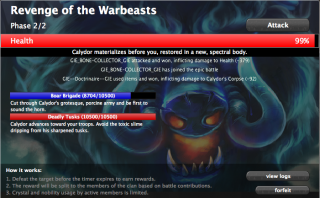 FIRST:
Attack
Boar Brigade to 0.
SECOND:
Assassinate
Deadly Tusks to 0.
EB Complete! With a blinding flash, a wave of deadly maledictions seize the warbeast, dissipating his very form. Calydor has fallen once more.
Notes:
-Horn of Calydor:
Drops from this Epic Battle:

Q: What is the Horn of Calydor?
A: A special item qhich allows you to get past the first stage of Revenge of the Warbeasts.
Q: How can I get it?
A: Pay
29 nobs
or you can
get it as a drop
from the following Epic Battles:
-Warbeasts
-Cover of Night
-Kingdom Assault
-To The Chamber
-The Depraved
Q: I have been doing the EBs above all day and haven't got one! Why?
A: It is classed as a
rare
drop so you won't get it straight away.
Q: Where is it?
A: You can find the horn in the profile section, and it can be bought from the defence section of the marketplace.
Q: Wait... Did you just say this was a defence item? Won't I lose it if I get attacked?
A: Yes the horn is a defence item but you will not lose it if you are attacked.
Q: How does the horn work?
A: You need only 1 person with the horn to complete the Eb for the whole clan. It is used to get past stage one of the EB.
Q: What is Revenge of the Warbeasts?
A: It is a variation of the regular Warbeasts that yields 3x gold.