Well hello forums. It is I, Dr. Snoopy le Snooper, Big Degree, Smart Person Degree, Random Major. We are back here again and it's been awhile since the most recent therapy session of psychiatristical help.
I have helped HUNDREDS of people with their Psychological needs, including these moronic... I mean wonderful customers.
AngryFred1138 wrote:Dear doctor, I find myself torn, on one hand your advice seems sound and logical.
But on the other hand I'm struggling to trust what you say as I believe you sleep on a roof and your only friend is a tiny yellow bird(who doesn't respect you), which suggests insecurities and an inability to interact with mammals your own size.
I urge you to start a forum thread and open up emotionally. The nice kaw forumers will surely be kind, patient, thoughtful and have helpful comments . What you got to lose.
The Doc's answer:
Dear patient,

I do NOT have insecurities! I cant help I can't talk and that the ONLY person who SLIGHTLY loves me is CHARLIE (yes I mean the dev)! DONT BRING UP MY LIFE K BAI U MADE ME CRY.
The_Postman wrote:I have this addiction doc. My phone seems to be attached to my thumbs and I am constantly looking at this thing in my hand. Some woman holding a sword keeps appearing and then words. I continue to press the things on the screen but I seem to be unsuccessful. People all around me are larger than I am. Whatever can I do
Hey, I understand your pain. Best thing I would suggest would maybe just maybe.... Take a 5 minute break and turn off your phone for just 5 minutes.

Take a walk, or eat some Popsicles.. Then set up a credit card strictly for buying those things called health crystals. You'll get big.
As you see I am a completely sane and brilliant genius that gives amazingly sane and brilliant responses to your life issues.
So once more.. The Doctor is in AGAIN!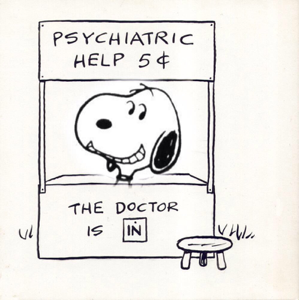 Picture Copyrighted to AshesOfEden and Dr. Snoopy