Return of the Dark One
"Leidamea and her five champions are victorious! Their forces have fought through all resistance to surround the Temple of Viskard...and their victory comes with a terrible consequence.

With Leidamea's influence pressing in from all sides, the Mage can hold out no longer. His magical circlet of containment has reached the bounds of its power...Khal'Khor is about to be free!"
This event consists of a primary Legend and an extra Legend available immediately, as well as a set of three side-Legends that will unlock the day after with 2000 collection items. These side-Legends will offer players a choice of Easy, Medium, or Hard. The rewards increase with each difficulty level, but so does the challenge. Players
WILL
be able to complete each level once the previous choice has been completed. Additionally, there will be a temporary premium EB for the duration of the event.
This event will be available from Wednesday, June 19th until Wednesday, July 3rd at Noon PT.
The Prisoner of the Void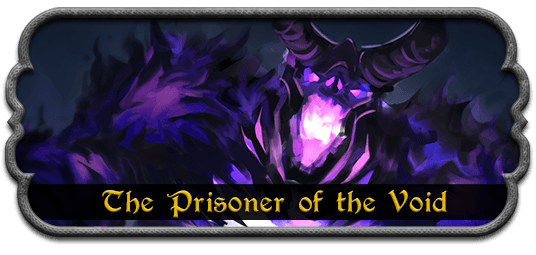 There will be a series of premium epic battles this event! These can be unlocked with the Voidmap Scroll, available in the marketplace for the duration of the event for 20 NB each. There are 5 tiers to the series, with increasing difficulty and cost, as follows:
Khal'Khor the Dark One - 60 NB
Khal'Khor the Dark One (Crushing) - 100 NB
Khal'Khor the Dark One (Fiendish) - 140 NB
Khal'Khor the Dark One (Murderous) - 180 NB
Khal'Khor the Dark One (Diabolical) - 220 NB

Voidmap Scroll
Exclusive Furnishings
Furnishings exclusive to Return of the Dark One will be available in the Furnishings Shop, Khal'Khor Chest, and Royal Khal'Khor Chest.

There are also 3 additional pieces only available through the following means:
There is an additional 100k collection tier on the main Legend this event, rewarding players with a

Void Crystal Floor

for completion!
The

Void Crystal Pillars

are a drop from Khal'Khor the Dark One, with an increasing chance at each difficulty
Earn a

Void Crystal Dais

for completing the last tier of the extra Legend!
Collect the entire Void Crystal set to give your throne room a complete re-skin!