A New Legend: The Raven and the Rook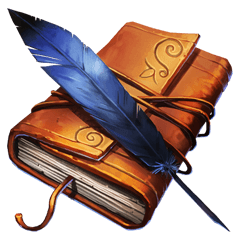 You have broken the curse placed upon Field Marshal Holmfast by the Witchqueen, and the time for retribution is at hand!

You summon the one known as "the Rook": Thanna Solius, spymaster and head of your royal spy network, Crownseye...
New Legends await! Tap the Legends button to begin.
Note: If you do not see any Legends, you may need to restart the app. And keep an eye out for new Legends that may appear throughout the week and as you progress!
New Mystery Boxes Have Arrived!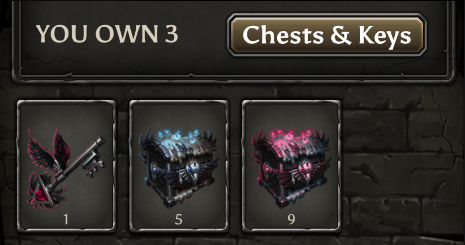 Tap on a Mystery Box in your Showcase (applies to most Event Mystery Boxes released from this point onwards) to see a detailed list of what that box might contain!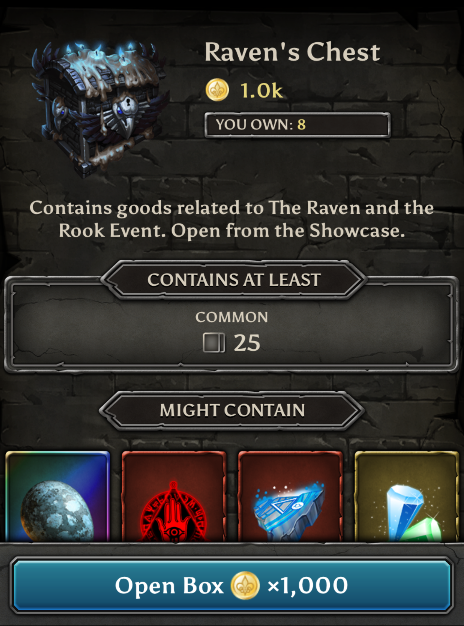 The rarity of each item is indicated by its background colour. Note that some boxes guarantee at least some items of a particular rarity with a chance at getting more and/or higher rarity items.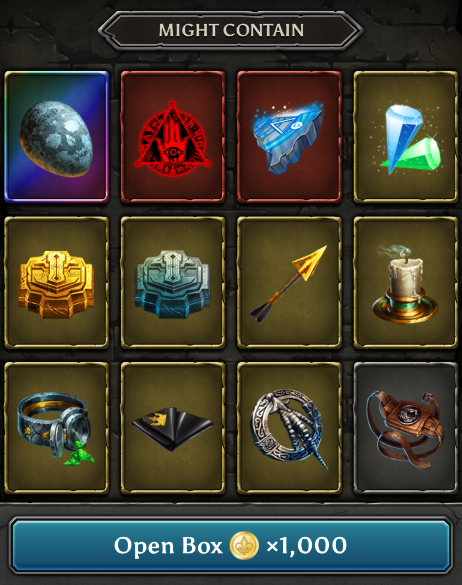 Some boxes can be opened with Gold and others can be opened with Keys.
IMPORTANT NOTE: Opening new event boxes is now done on the Box detail page. If you purchase a Key from the Marketplace, it will NO LONGER AUTOMATICALLY OPEN A BOX. You must navigate to the Box detail page from your Showcase and select "Open."
No More Daily Free Key? WTF ATA!?
In past events, there was one event box that you could open in two ways: Buy a Gold Key with Nobility or buy a Regular Key with Gold (with a limit on the number of times you could do this per day).
Future events will mix this up a bit (I know you guys love change). Now there are two types of Boxes: One you get as a random drop from Epic Battles that can only be opened with an Arcane Raven's Key and one you get every day by completing your
FIRST
Epic Battle that can be opened with Gold, no key required (this is distributed via a daily Legend, so make sure to pick that up first).
This is essentially the same as the previous system with a couple of advantages for you guys. First, you don't have to pay attention to when you last purchased the Regular Key to maximize your opens. Secondly, you get your free box from your first EB completion so it's really easy to hop in and grab them.
Opening a Box After an Event Ends
In the new system, boxes can be opened with Gold or Keys (if you have any leftover) after an event ends. Please note the following:
- Boxes that can be opened with Gold can give event/leaderboard collection items. If you open these after an event ends, the items will NOT contribute to your progress! OPEN THESE BEFORE THE EVENT ENDS!
- Boxes that can be opened with premium Keys will NOT give event/leaderboard collection items after an event ends. Instead, all of the collection items will be replaced with a Health Crystal drop. This means that if you want to open a box from a previous event to get a chance at an older equip or rare item, you won't be wasting your Nobility because you will at least get 1 Xtal for your 10 Nobility.
Hopefully that covers the basics. If you have any questions let us know in this thread! Happy KaWing!