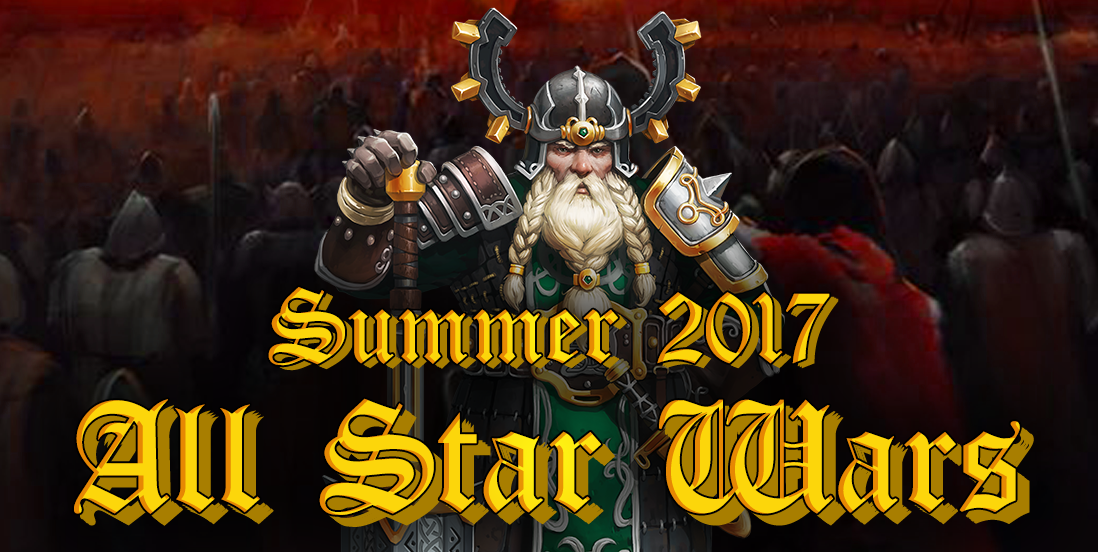 The time has come!
The Top 10,000 players (based on overall strength leaderboards) are once again invited to take place in an epic 3-Day tournament in a true show of strength, strategy, and smarts!
A total of 8 clans will enter, and at the end of the weekend one will emerge as the All Star War champions!
Teams
Cobalt Colts
Pink Lynxes
Silver Scorpions
Purple Panthers
Gold Gorillas
Green Grizzlies
Magenta Manta Rays
Cyan Lions
At 12AM PDT on August 3rd those who have reached the Top 10,000 places on the overall leaderboard will be able to sign up for the Summer All Star Wars by casting Wave of Conflict. Players will then automatically be placed in Clans of up to 200 players each (roster size may vary based on participation), and will face off in a three day tournament to determine the true All Stars of Kingdoms at War!
Sign Up Information
• Signups begin August 4th @ 12AM PDT
• Signups end August 4th @ 2PM PDT
• You only need to sign up for the first war in this event
• Cast Wave of Conflict before signups end
• You must not be in a clan when signups end
• You can opt-out after signing up by being in a clan when signups end
• Only the top 10,000 players on the overall strength leaderboard are eligible
• Out of all applicants, the strongest 1,600 will be selected
• Only 1 account per individual is allowed to participate. If you are found to have more than 1 account signed up we will remove all, or all but one of your signups at our discretion
Tournament Structure
• Players will be separated into 8 different clans with rosters of up to 200 players (Will vary based on participation)
• Rosters will be locked once set
• This will be an elimination tournament. Winning clans move on, losing clans will be eliminated.
• There will be 3 rounds, each lasting 6 hours
• After your clan has been eliminated you are free to leave it (we will not add admins to eliminated clans)
• You will not be able to kick other players
• You will not be able to rejoin a clan after leaving
• DO NOT LEAVE your clan after the round is completed, you will stay in this same clan until the end of the event. We will instruct your clan when it is okay to leave.
War Details
War Type:
Random
Health Crystals:
6
Outside Hits:
Off
DTW/DTS:
Off
Tournament Schedule
Preliminaries: August 4th, 3PM - 9PM PDT
Semifinals: August 5th, 10AM - 4PM PDT
Finals: August 6th, 6AM - 12PM PDT
Tournament Rewards
The rewards of the Summer 2017 All Star Wars include prestige of being known as the best of the best across the many kingdoms, special name flair, banners, and more!
To ensure your prestige follows you wherever you go, participants will receive a Summer All Star Wars achievement based on the number of rounds your clan wins.
In addition, our ASW 2017 Champions will receive the Star Name Effect in World Chat, a special 2017 All Star War forum title, and a banner based on the winning clans name and colour.
This special Summer 2017 All Star War banner will be determined upon the winning team, and will be created in the colour and theme of that team's name (please be aware that it will take about two weeks for us to make the banner for the winning team).
Those with stars from the Summer 2016 All Star Wars will have them removed before the Preliminary round on Friday, but will receive a 2016 All Star War winner forum title to commemorate their achievement.
3 Rounds
Summer 2017 ASW Banner (Distributed ~2 weeks after Winning team is determined)
(+4.25% / +4.25% / +4.25% / +4.25%)
ASW World Chat Effect
ASW Forum Title
Summer ASW Gold Achievement
2 Rounds
Summer ASW Silver Achievement
1 Round
Summer ASW Bronze Achievement
All Participants
Summer ASW Participant Achievement
Rewards will be distributed after the entire event ends.