Yes! This is one of those silly threads about the color wars!
Team Blue is looking for more players. Obviously, all the teams are. Team blue has many experienced and skilled players. People from Pure Evil and The Firm and The Force. It's a break from all those EBs. And get some mithril!!!
Anyways, now i will present some reasons why you should not join some of the other teams.
First off, Team Gold. Their leader, Epicness13.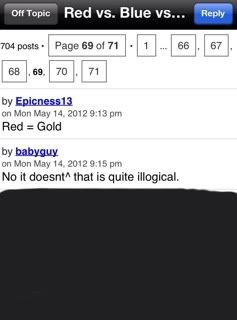 Here you see him making an uncommon conparison. Since when did Gold = Red? Never. That is blasphemous. Why would you want a leader that says Gold is Red? It is quite stupid.
Next is green. Their leader Bang-Oliverk (and some weird barcodes on each side)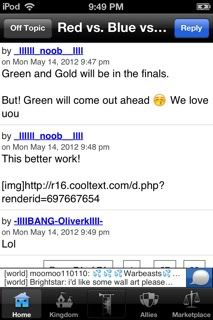 Here is one of their poor members trying to post a picture!
but he cant do it! He's been trying for like 10 pages! But as you can see, all his leader does is "lol"s. Do you want a leader that laughs at your mistakes? No!
Orange, their leader im not really sure of! Haha. All i can tell you is that they dont have many members! Other than that, they're okay!
So now you see their true colors. Yes, pun intended. Is it Obvious which team to join now? I HOPE!
TEAM BLUE FTW
Our roster (so far):
Team Blue
1. Babyguy
2. 316-Xenoslayer_Manna
3. MX1
4. -Deadly-
5. -FuzzyBunny-
6. |||||||-RiR-Jay-RiR-|||||||
7. Demur
8. Christ-like-follower
9. Lethal_Burn
10. YogiLSA
11. TotalOne
12. -MATEUS- (maybe)
13. deadbane
14. cbear7
15. -Hestia-
16. Areuz
17. Lethal_Hunter
18. igerpums
19. ||i||__King--Flapjack__||i||
20. Wakebuster
21. SWAAG
22. Secret
23. Squirtle
24. IMA_BALLER
25. Sasha078
26. M__A__B__1
27. IMA_BEAST
28. mocking-jay
Gold, Green, and Orange: May the odds be ever in your favor!
-babyguy!
*disclaimer: this is all for fun. no harm intended.*